2nde Générale et Technologique : explorez le vivant
LYCEE VAL DE SARTHE - Sablé sur Sarthe
Tél : +33 2.43.550.800
Fax : +33 2.43.92.18.05

: sable@cneap.fr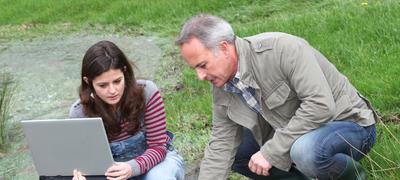 GENERAL 5TH YEAR
The general 5th year syllabus on offer contrasts to that of the National Education authority by its inclusion of a choice of exploration studies. The first of which (Economic Sciences and Management or the Foundations of Economics and Management) is common to all such programs. The second option aims to provide an introduction to life sciences: biology, ecology, earth sciences and sustainable development.
The exploration options have no influence on admission to the 2nd/final year baccalaureate program.
FURTHER STUDIES
General Baccalaureate (S, ES or L) - Technological Baccalaureates.
EUROPEAN SECTION
ENGLISH LANGUAGE EUROPEAN SECTION
The European section of the college, which is open to students from secondary school level onwards, is an essential part of our educational project, which for many years has been committed to international cooperation and the furthering of language skills in its programs. This section does not restrict itself to language skills alone. A large part of the classes are concerned with the history, geography and culture of the country in question. With a certain focus on Europe.
ADMISSION TO GENERAL 5th YEAR
After written application and interview.
THE COLLEGE'S EUROPEAN SECTION HAS ITS OWN DEDICATED EDUCATIONAL RESOURCES
Additional English language courses
Students have two additional hours of English language classes every week. The history, geography, art and culture of the country in question are also raised in addition to the pure language studies.
Courses held in a foreign language (DELE)
In additional to the extra two hours of language courses, the European section also provides weekly hour long courses on a subject (Biological sciences) in English.
Cultural and exchange activities programs with English-speaking countries.
Students in the section can participate in language exchange programs and a culture and language field trip to Europe or the United States. For example, over the past five years the 5th year students have spent 10 to 15 days in Sweden, Norway (2011-2013) and the United States (2014), as well as a tour of the major European capitals, often homes to major European Institutions: Strasbourg, Berlin, the Hague, Brussels (2015).
The European section « qualification» will be indicated on the diploma if the student successfully passes the modern language tests for the language in question.
Other specifics of the program
Optional hippology-equine studies
Students who wish to do so may take this option: 2 sessions per week at the college's equestrian training centre. which has a training staff including: 2 instructors, 1 monitor and an osteopath.
subjects and hours
FRENCH 4 h
HISTORY – GEOGRAPHY 3 h
MODERN LANGUAGE 1 3 h
MODERN LANGUAGE 2 (GERMAN – SPANISH) 2 h 30
MATHEMATICS 4 h
PHYSICS-CHEMISTRY 3 h
LIFE AND EARTH SCIENCES 1 h 30
PHYSICAL EDUCATION 2 h
Civic, Legal and Social Education 0 h 30
PERSONAL PROJECT 2 h
1st EXPLORATION OPTION (choice): 1 h 30
Economic and social sciences
or - Foundations of Economics-Management
2ns EXPLORATION OPTION:
ECOLOGY - AGRICULTURAL SCIENCES
EATH SCIENCES AND SUSTAINABLE DEVELOPMENT 3 h

EUROPEAN SECTION:

ENGLISH 2 h

Subject in a foreign language: biology 1 h

Route du Mans - BP 10157