Secondary school European section
LYCEE VAL DE SARTHE - Sablé sur Sarthe
Tél : +33 2.43.550.800
Fax : +33 2.43.95.18.05

: sable@cneap.fr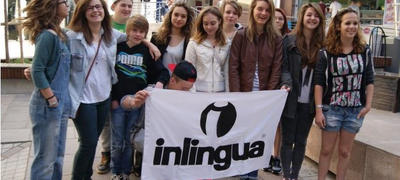 ENGLISH LANGUAGE EUROPEAN SECTION
PROGRAM OBJECTIVES
The aim of these classes is to prepare for 5th year general or vocational classes, and to prepare one's choice of baccalaureate: general, technology or professional.
ENGLISH LANGUAGE EUROPEAN SECTION
The European section of our college is an essential part of our educational project, and for many years has been working towards the inclusion of advanced language skills in our courses. This section does not restrict itself to language skills alone. A large part of the classes are concerned with the history, geography and culture of the country in question. With a certain focus on Europe.
Students have two additional hours of English language classes every week.
INTENSIVE LANGUAGE COURSES
During the Fourth year, students will have 2 weeks of their classes in Malta. Students will take their classes at a language institute (Inlingua Malta - http://www.inlinguamalta.fr/) and be accommodated by local families. They will be accompanied by one of their teachers. This will involve art and history classes as well as the language classes.
OTHER COURSE SPECIFICS
Biology and ecology will replace Earth and Life Science (SVT) classes. Biology is much more present in agricultural education programs and at their heart of all life science subjects.
HORSE RIDING CLASSES
Students who wish to do so may take this option: 1 session per week at the college's equestrian training centre. which has a training staff including: 2 instructors, 1 monitor and an osteopath.
FOR STUDENTS WHO DO NOT WISH TO TAKE THE EUROPEAN OPTION
Two hours of either technology or theatre classes per week will be proposed.
For these students the intense language courses will be optional. Those who decide not to do this will have a group placement during the same period.
ADMISSION
After written application and interview.
3rd YEAR COURSES
Mandatory classes
French 4 h
Mathematics 4 h
Modern Language 1 3 h
Modern Language 2 3 H
History-geography 3 h
Biology-ecology 2 h
Physics-chemistry 1.5 h
Physical Education 3 h
Optional classes
European section, English 2 h

OR
Technology or Theatre 2 h
Hippology-equine studies 2 h
4th YEAR COURSES
Mandatory classes
French 4.5 h
Mathematics 4 h
Modern Language 1 3 h
Modern Language 2 3 H
History-geography 3.5 h
Biology-ecology 2 h
Physics-chemistry 1.5 h
Physical Education 3 h
Optional classes
European section, English 2 h

OR
Technology or Theatre 2 h
Hippology-equine studies 2 h
Route du Mans - BP 10157