Secondary school to professional career
LYCEE VAL DE SARTHE - Sablé sur Sarthe
Tél : +33 2.43.550.800
Fax : +33 2.43.92.18.05

: sable@cneap.fr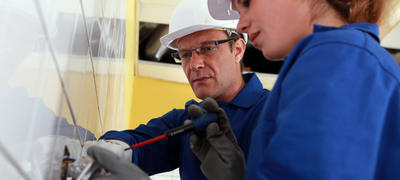 Secondary school to professional career
PROGRAM OBJECTIVES
These classes aim to prepare for the professional baccalaureate (BTEC ND).
PROGRAM ORGANISATION
This general studies program is organised in direct relation to the objectives and requirements of the professional baccalaureate program. In addition to the general studies program (see the program table), there will be 8 hours of courses introducing vocational subjects as follows:
- Ecology - environment - the animal world

- Activities - tourism - healthcare

- agricultural produce processing

- Sales and client relations
OTHER COURSE SPECIFICS
During the 4th years classes the students will have 4 weeks of career orientation apprenticeships. The teaching staff will also accompany the students in the definition of their career project.
SUPPORT AND ASSISTANCE
In order to gain admittance to a professional baccalaureate program - the aim of these classes - it will be necessary to acquire solid foundations in methodology and general knowledge. The teaching staff will adapt the program to meet this aim, offering a weekly half day session of study support.
ADMISSION
After written application and interview.
4th and 3rd YEAR COURSES
Genral modules
French 3 h
Mathematics 3 h 30 (4 h in 4th year )
Modern Language 1 2 h 30
History-Geography 2 h 30 (3 h in 4th year )
Biology-ecology 1 h 30
Physics-chemistry 1 h 30
IT 1 h
Physical Education 3 h
Supervised homework 1 h
Study support 4 h
Vocational modules
The vocational modules will run for 7h30 per week.
FURTHER STUDIES
- Professional baccalaureate over 3 years

- CAP (NVQ level 1,2)
Route du Mans - BP 10157